ROOMIES
product design
Roomies is an app for managing responsibilites between you and your roommates. Designed by Robert Vinluan and myself for a class about designing for touch, and took it from an initial concept to visual designs and an interactive prototype built with
Flinto.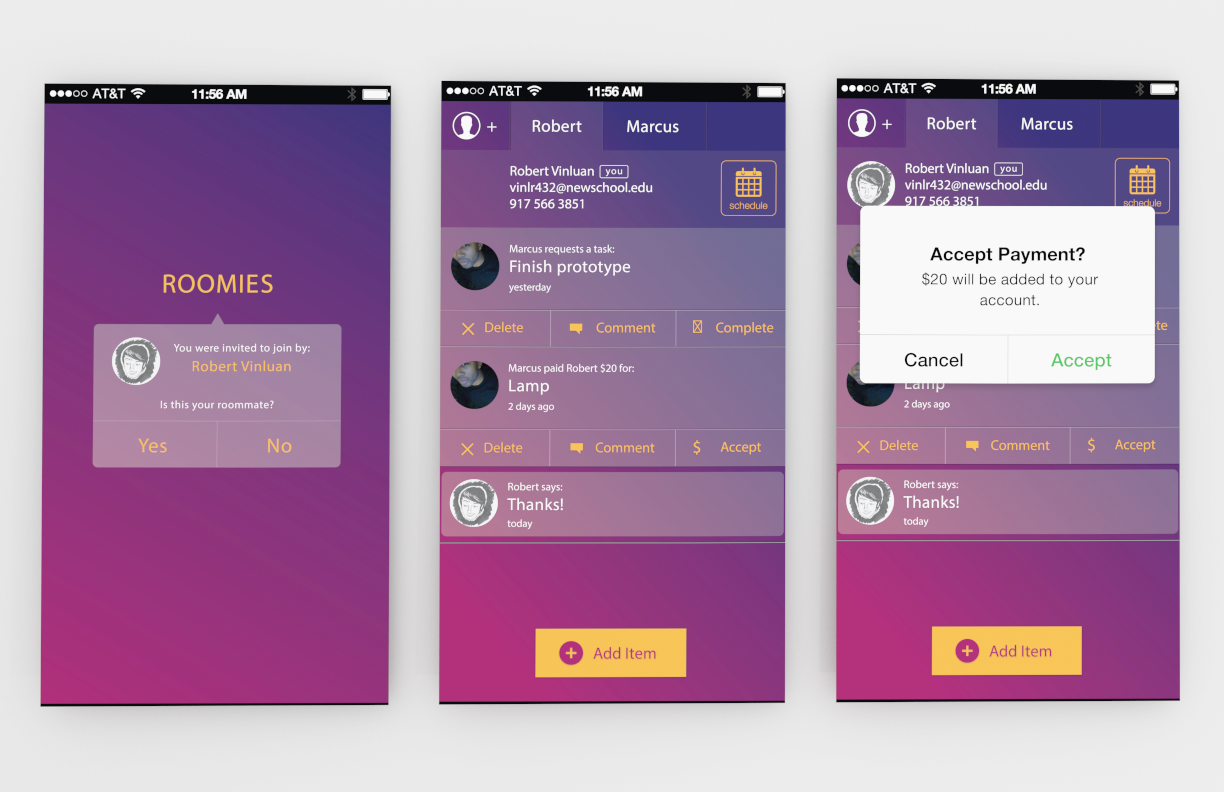 PERSONAS
Persona, Scenario & Hypothesis

Persona (1)
Name: Or
Age: 26
Gender: Male
Occupation: Artist
Technology: Owns an iPhone, and that's about it.
Pleasurable experiences: group activities. everyone paying rent on time. saving money by buying in bulk.
Painful Experiences: having to nag people.
Use case: collecting rent when it's time. posting a reminder for cleaning. asking if anyone needs groceries.


Scenarios
When it's time to collect rent, I want to let everyone know, so they can transfer me money.
When I need groceries, I want to let everyone know, so they can tell me if they need anything.
When I'm going to see a movie, I want to ask everyone, so they can tell me if they want to come with me.
Persona (2)
Name: Sabraé Connors

Age: 20

Gender: Female

Gear: Money conscious / trendy

Occupation: Student but interns at two places

Technology: iPhone 5, Primarily a Apple Products user

Pleasurable Experiences: Better communication between roommates while avoiding awkward conversations and things that don't necessarily want to be brought up in person.

Painful Experiences: Hassle of figuring out when her roommate plans on giving her the money for smaller bills, never being able to see her roommate because they are both too busy which makes it harder for them to take time for finances.

Scenarios
When a bill is due I want to be notified so I can transfer the money to my roommate.

When I want to see when my roommate is free of classes/jobs I want to be able to see her schedule so that I don't have to constantly bother her about when she's free.

When it is my week to clean the bathroom I want to be reminded so that I can remember to get it done.


Hypothesis:
With this mobile product, we want to create a sturdy bridge of communication between roommates, allowing them to pay bills, transfer money, set reminders for each other, check each others schedules, and write notes, all while the consumer continues to live their busy life. Hopefully leading to a better roommate experience that could potentially prevent moving or leaving before leases.




USER TESTING
You can find videos of our user testing here.




WIREFRAMES


Competitive Task Analysis: Astrid. Task: Leave Roommate a note/reminder